Is landlord insurance needed for condos?
---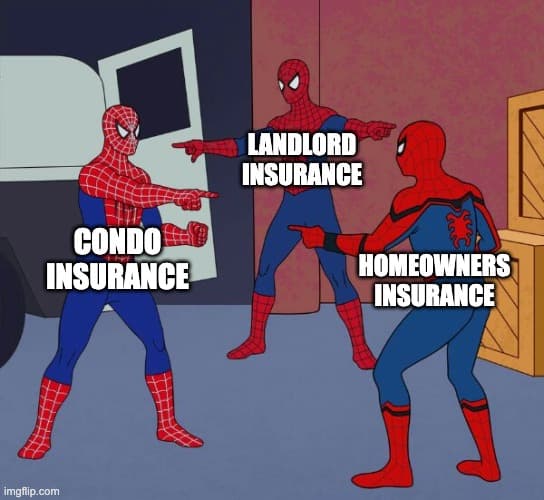 ---
As a condo owner, you may be considering converting your condo unit into a rental property for additional income. While this can be a great financial move, it's important to ensure that you have the right insurance coverage in place if your condo is no longer your primary residence. One question that often arises is whether condo owners need landlord insurance when they start to rent out their condo unit. The short answer is yes!
What is Landlord Insurance?
Landlord insurance is a type of home insurance policy that is specifically designed for property owners who rent out their home or condo to tenants. This type of rental property insurance typically includes coverage for property damage, liability protection, and loss of rental income in the event of a covered loss. It's important to note that landlord insurance is different than renter's insurance, which typically protects the tenant and their personal belongings.
Why Do Condo Owners Need Landlord Insurance?
If you're a condo owner who plans to rent out your unit, it's important to understand that a standard condo insurance policy may not provide the types of coverage you need.
Landlord insurance is designed to address the specific risks associated with renting out a property. For example, if your tenant accidentally causes damage to your condo, your landlord insurance policy may cover the cost of repairs. Likewise, if a tenant or their guest is injured on your property and you're held liable, your landlord insurance policy typically provides additional coverage for personal liability damages.
In addition to property damage and liability coverage, landlord insurance may also provide coverage for loss of rental income. For example, if your condo becomes uninhabitable due to a covered loss, your landlord insurance policy may provide reimbursement for the rental income you would have earned. Landlord insurance also typically reduces personal property coverage unless you are renting out a furnished unit.
What Does Condo Association Insurance Cover?
It's worth noting that your condominium association likely has its own insurance policy in place. This policy is designed to provide coverage for the common areas of the building and the exterior of the building, such as the roof and walls. As a result, most individual condo insurance policies do not need to have as much dwelling coverage, since the condo association's policy will typically take responsibility for rebuilding the structure of your unit.
However, it's important to understand that the condo association's insurance policy may not provide dwelling coverage or liability protection for incidents that occur inside your unit. There may also be a difference in the covered perils between you and your condo association's policies. This is why it's important to have a comprehensive landlord insurance policy in place for your individual condo unit.
What Factors Impact How Much My Insurance Costs?
The cost of landlord insurance can vary depending on a number of factors. Some of the factors that may impact the cost of your policy include:
Your desired deductible amount (which influences your out of pocket costs for a claim)
The location of your condo
The age and condition of your condo (e.g. have you made any upgrades to your unit)
The type of tenants you rent to (e.g. short-term vs. long-term tenants, whether you require a renter's insurance policy)
The amount of coverage you need
It's important to shop around and compare quotes from different insurance providers to ensure that you're getting the best coverage at a competitive price.
What Does Landlord Insurance Cover?
As a landlord, you encounter unique challenges and risks. So while the average landlord insurance costs 15% more than the standard homeowners insurance policy, we highly recommend that all landlords purchase landlord insurance. Landlord insurance covers a wide range of potential risks, damages, and liabilities, including:
Accidental damage to the property caused by tenants or their guests (not including wear and tear)
Loss of rent income due to property damage or other covered events
Liability coverage in case of claims arising from injuries on the property (which can also cover legal fees in case someone sues)
Personal property if you furnish your home for tenants (this is for your personal belongings, not the tenant's)
Medical payments in case of minor injuries (X-rays, ambulance rides, etc.)
If you're a condo owner who plans to rent out your unit, it's important to have landlord insurance in place. Whether you lease to long-term tenants, or use your condo as a short-term rental through services like Airbnb or VRBO, it's important to have a comprehensive insurance policy in place to ensure that you're adequately protected.
Whether it's getting advice on your deductible amount, deciding between actual cash value or replacement cost coverage, understanding exclusions on your policy, or deciding whether you need an umbrella policy to get more personal liability insurance, Homeflow is here to help! We work with 35+ insurance companies to ensure landlords get the best value on their coverage, and our Homeflow Insurance agents are always standing by to assist.
Or if you'd like a self-service option, Homeflow's online platform can get you multiple landlord insurance quotes in 5 minutes or less.
The Best Way to Compare and Buy Landlord Insurance Online
Get quotes in 5 minutes or less.
---
Continue Reading
Get Your Insurance Quotes Now
Let us find the best value on your insurance!
© 2023 Homeflow. All rights reserved.